HISTORY
"To accomplish great things, we must dream as well as act". With a dream and determination, Arden Classic was established by the couple Arden and Jen Siarot on year 1993 which started out a small venture of selling miniature furniture in local department stores and in 1994 became a furniture subcontractor of the biggest and high-end furniture maker in Cebu. From simple beginnings and catching every wave of opportunity to grow, in 1997 Arden Classic evolved into a diversified manufacturing and export corporation.
Arden Classic hand crafted home decorations and accessories with quality craftsmanship made of natural sea shells, coconut shells, fish skins and other indigenous materials accented with silver plated solid bronze embodying timeless elegance are the high end products that afforded the company a competitive advantage and better opportunities here and abroad.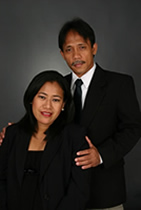 The never ending quest of product excellence and customer service, Arden Classic gain awards in 2002 for the Golden Shell Award for Manufacturing Excellence for its skillful and imaginative use of materials for high quality home furnishings, and for its fabrication of innovative tools and machinery which enhance manufacturing operations and reduce production cost. On the same year, the owner itself is the recipient of President Ramon Magsaysay Outstanding Filipino Worker for its consistent diligence and applying its excellent skills in improving the company's manufacturing operations as well as contributing to the economic growth of the country. Throughout the years Arden Classic continued gaining awards and recognitions from being the 2003 Entrepreneur of the Year, 2004 Best Craftsmanship Award, and Finalist in Best Design for Home Accessories in 2004 and 2006 and Finalist for Best Product Design for Furniture in the Cebu International Furniture Exhibit.
Arden Classic high end quality products has gained loyalty patronage from its high-end international customers such as Armani Casa, Ralph Lauren under Mikasa, Ralph Polo, Harrods, Lane Crawford, Neiman Marcus, Cinmar, William Sonoma Homes, John Lewis and specialty shops like The Ritz-Carlton, Saks Fifth Avenue and other world renowned brand name buyers.